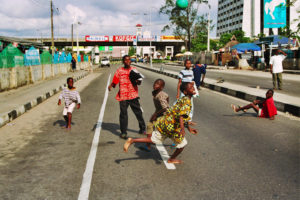 Hoffnung International Football Academy (HIFA) is a private organization founded by Mrs Hope Kole. It's intent is to serve the Corporate Social Responsibility initiative of the GLOBAL HOPE SPORTS MANAGEMENT COMPANY. HIFA is dedicated to developing young boys with football talents, especially those from financially-challenged backgrounds, in the field of education and total football interest. Presently, the cost of running the academy is being generated from funds from donations from founder, families, friends and sponsors.   Our goal is to be a self sufficient football academy in the coming years. This will only be possible if we can get foreign clubs willing to give some of our players the opportunity to showcase themselves and possibly signing them. To achieve this, we have entered into strategic partnership with the Professional Football Scouts Association.
The PFSA is the first and only registered and recognized Professional Football Scouts Association worldwide. The major objective of the PFSA is to promote good practices while simultaneously and systematically raising awareness from grassroot up to the professional level in football. The PFSA is also established to liaise with all governing bodies Worldwide and professional/non-professional leagues on behalf of all member scouts in order to promote best practice and the raise standards.
HIFA is only able to provide accommodation for some of its players as others because of the current available capacity. The selection for those to be accommodated is based on the age, distance and value of the player. We only accommodate players who are between the age of 16 and 18 (Mostly college graduates) and whose distance is quite far from the training facility. Although, the philosophy of treating everyone equally is very important at HIFA, we give priorities to the players who have been able to display natural, phenomenon and rare talents. By doing this, we have been able to design a player development model that allows:
The best players to practice together everyday
The best players to play against each other as much as possible
The best payers to work together with the best coaches and support staff
The students are grouped into two categories; the junior cadre which comprises students ages 11 – 15, while the senior cadre comprises students between the ages 16 – 20. The junior cadre combines academics with football while the senior cadre combines football with management courses and life skills
.